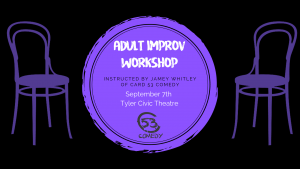 NEW DATE
Adult Improv Class at Tyler Civic Theatre presented by Card 53 Comedy's Jamey Whitley.

Actors will learn the foundations of improvisation to help them hone their characters, improve their listening skills, learn to react truthfully and to trust their instincts. The basis of the class is built on the principle of "yes and". The "yes and" principle will be explored while learning to establish a base reality at the beginning of a scene to provide an environment where the "truth in comedy" can then be explored. The class will consist of several exercises and improv games necessary to create an improvised scene.

This course on the basics of improvisational comedy will meet Saturday, September 7 starting Noon.

Class is designed for ages 17+ and is great for the working actor, the business professional, or the introvert looking to get out of their comfort zone.

Cost is $50.00

Class size is limited. Register by calling 903-592-0561 or click HERE to register and pay online.

About the instructor:

Jamey Whitley is an actor, writer and producer honored to be partnering with the Tyler Civic Theatre to teach improvisation. He is the Co-Founder of Card 53 Comedy East Texas's own improv comedy troupe as well as the founder and producer of The East Texas Comedy Festival.he has been performing improv comedy in East Texas and the Dallas/Fort Worth Metroplex for 10 years. Whitley has put together his own improv curriculum which is based on a culmination of his improv training which includes the Second City in Chicago as well as some of the best improv teachers in the Dallas/Fort Worth area and throughout the country. He is represented by Danette Linicomn of the Linicomn Agency.