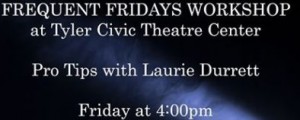 Frequent Fridays Workshop - Film and Commercial Auditions
Friday at 4 PM – 6 PM

Need some help with auditions? Not even sure where to begin? Get pro tips for commercial and film auditions. This workshop is two hours at a cost of $45 for adults and mature teens Click HERE to order tickets.). Season FLEX Pass holders only $30 (Call Box Office). Act II & III students are free but must be 14 years old to attend (Call Box Officde)

Laurie Durrett has been in the Arts for over 40 years as an Actor/Director/Producer and Writer. President/Owner of Mockingbird Productions Company for 5 years in the capacity of Actor, Writer, Producer and Director. Winner of two Telly awards for Industrial Films, had a short film in , Sundance, Cannes Film Festival and on the short list for an Oscar nomination. 10 years in Film, 5 years in Television as Producer, Production Mgr. and Director. She worked in Education as a High School Theatre Teacher then as a Professor in a small college in East Texas teaching, Film Production and Theatre.
She says the Arts have been her saving grace for over 40 years. Since her first show at the young age of 12 and ending her education at NYU with a Masters in Human Development and performance. There's Nothing else she'd rather do.

Laurie currently writes screenplays full time and teaches TCTC's Act III class for youth (7th through 12th grades) intermediate and advanced student actors. She's a member of SAG/AFTRA, AEA, WIF, AFI.

4-6 p.m. October 4th, Laurie Durrett leads an introductory workshop to guide "novices" interested in auditioning for film and commercial work. She asks participants to fill out a short questionnaire so that she can address your specific goals for this training. Expect to be briefed on: Preparing an audition resume; Auditions - in person & digital submissions; Headshots - what's useful, what's not; Green Screens - why are they used for screenings and how can we use this to our advantage? ...and other topics as discovered in the questionnaire!