May 13, 2018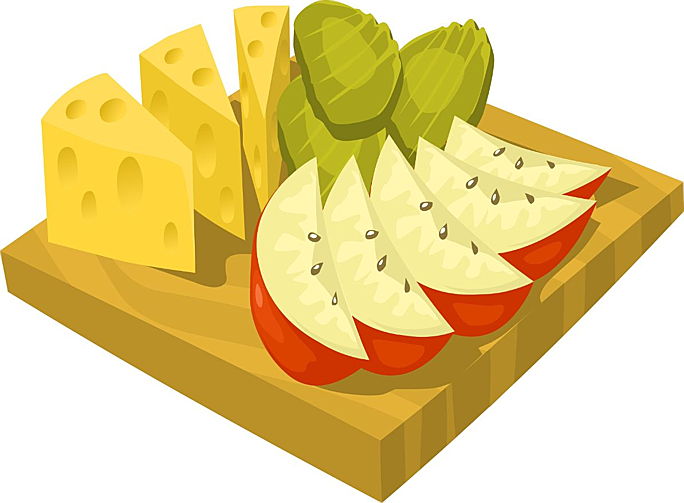 Enjoy The Odd Couple and brunch this Mother's Day.
Tickets Adult/$34 and Student/$30. ... or call the Box Office and use your FLEX + $20 each.
Latest News

Yep, two versions of the famous Odd Couples.
Of course you know if the first one of stage, screen and television.
BUT ...
In 1985, Neil Simon revised The Odd Couple for a female cast. The Female Odd Couple was based on the same story line and same lead characters, now called Florence Ungar and Olive Madison. The poker game became Trivial Pursuit with their friends becoming the girlfriends: Mickey, Sylvie, Vera, and Renee. The Pigeon sisters became the Costazuela brothers, Manolo and Jesus.
The Tyler Civic Theatre is casting and producing BOTH!

Want to see the MALE version? Come on May 4-6
Want to see the FEMALE version? Come on May 10-13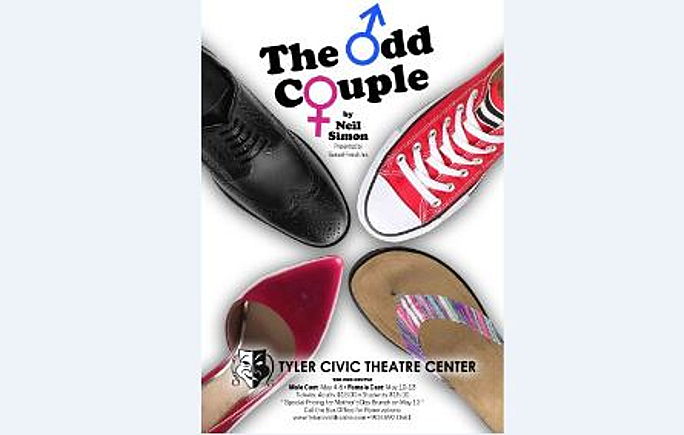 By Neil Simon
Winner! 1965 Tony Award, Best Author of a Play Nominee! 1965 Tony Award, Best Play
Well, it's really TWO ODD COUPLES because Tyler Civic Theatre Center is producing both the MALE and also the FEMALE version of Neil Simon's classic play.
This classic comedy opens as a group of the guys assemble for cards in the apartment of divorced Oscar Madison. And if the mess is any indication, it's no wonder that his wife left him. Late to arrive is Felix Unger, who has just been separated from his wife. Fastidious, depressed, and none too tense, Felix seems suicidal, but as the action unfolds, Oscar becomes the one with murder on his mind when the clean freak and the slob ultimately decide to room together with hilarious results as The Odd Couple is born.
In 1985, Neil Simon revised The Odd Couple for a female cast. The Female Odd Couple was based on the same story line and same lead characters, now called Florence Ungar and Olive Madison. The poker game became Trivial Pursuit with their friends becoming the girlfriends: Mickey, Sylvie, Vera, and Renee. The Pigeon sisters became the Costazuela brothers, Manolo and Jesus.
Want to see the MALE version? Come on May 4-6
Want to see the FEMALE version? Come on May 10-13
REVIEWS
"His skill is not only great but constantly growing...There is scarcely a moment that is not hilarious." – The New York Times
"Fresh, richly hilarious and remarkably original. Wildly, irresistibly, incredibly and continuously funny." – The New York Post he Odd Couple was first presented on Broadway by Saint Subber at the Plymouth Theatre in New York City on March 10, 1965. It was directed by Mike Nichols.
NOTE: The May 13th, Mother's Day show offers an optional brunch. Tickets including brunch are $34/adult and $30/ student. Click here to order show+brunch tickets.
Or, call the Box Office and use your FLEX + $20

A deal for you.
You get to see BOTH versions of The Odd Couple for only $30.
Yes! See the MALE version on the first weekend and the FEMALE version on the second weekend.
Two different casts. Two different directors. Different scripts. Same set.
What could be more fun?
To order the 2 Weekend Odd Couple Package ($30), click HERE.
PS: This special price does NOT include the Mothers' Day Brunch Special, Sunday May 13th.

The Odd Couple - Male Cast
(Performs May 4-6)
Oscar – Sean Holiday
Felix – Regi Fowler
Murray – Dan Trent
Vinny – Ryan Anderson
Speed – Jack Ragland
Roy – Jim Tindall
Gwendolyn – Brenda Korich
Cecily - Tricia Thorn-Leeson
The Odd Couple - Female Cast
(Performs May 10-13)
Olive – Jennifer Lane
Florence – Jes Byboth
Renee – Melanie Brumit
Vera – Traci Smith
Mickey – Sandy Junek
Sylvie – Nadine Booth
Monolo – Nyc Moy
Jesus – Jack Ragland
April 7, 2018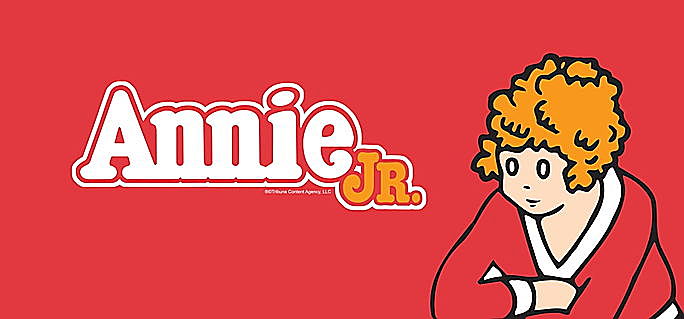 Based on the popular comic strip and adapted from the Tony Award-winning Best Musical, with a beloved book and score by Tony Award-winners, Thomas Meehan, Charles Strouse and Martin Charnin, Annie JR. features everyone's favorite little redhead in her very first adventure.
With equal measures of pluck and positivity, little orphan Annie charms everyone's hearts despite a next-to-nothing start in 1930s New York City. Annie is determined to find the parents who abandoned her years ago on the doorstep of an orphanage run by the cruel Miss Hannigan. Annie eventually foils Miss Hannigan's evil machinations, finding a new home and family in billionaire Oliver Warbucks, his personal secretary, Grace Farrell, and a lovable mutt named Sandy.
One show only. 4pm, Saturday, April 7th
April 5, 2018 - April 8, 2018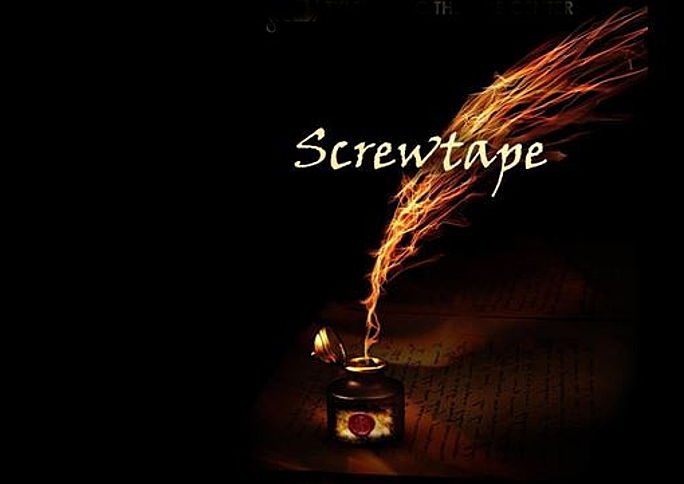 Screwtape, a senior devil from hell, has delegated some authority to a junior fiend, Wormwood, whose assignment is to seize the soul of a very human and lovable young man. This might be called a devilish dramatic contest with high-level meaning thrashed out in terms of brilliant low-level comedy. The rather charming Wormwood is being critically supervised in this, his first case, by that extraordinary devil, Screwtape. Advice from this old hand from hell is devastatingly perceptive of human foibles and, despite the love of a wonderful young girl, our young man is in terrible danger. It's really a close decision and, in a dazzling resolution, we all learn something important about hell, heaven, religion and humanity.
Screwtape -- the play by James Forsyth is based on the book by C.S. Lewis, "The Screwtape Letters"
PG-13
Latest News

Click this article title to read LuRae Stokes' item in the Tyler Morning Telegraph.,

Introducing the cast of Screwtape:
SCREWTAPE - Justin W. Purser
WORMWOOD - Douglas Lake
SLUMTRIMPET - Mary Henson
MIKE GREEN - Dereck Large
JUDY MACADAM - Tara Hoover
MR. MACADAM - Dan Trent
MILLY - Emmy Anderson
JOHN MORTAR / MR. SPIKE - Jeff Bryce
REX SKINNER - Jeff Bullock
QUEENIE/Female Understudy: Caitlin Butler
MIKE'S MOTHER: DeAnna Hargrove
Male Understudy: Asa Johnson
Director : Helen Strotman
Producers : Melanie Brumit & Jeff Bullock
March 9, 2018 - March 18, 2018

This delightful new comedy by Jim Brochu, the author of Cooking with Gus we know will appeal to a broad spectrum of audiences. A woman needs some ready cash right away because her apartment is about to be condo ed the hot new verb of the 80's. As she believes she is going to win the big lottery, she withdraws her life savings to buy tickets. Meanwhile her husband, who left her three years before, arrives back home on her birthday, the day of the lottery drawing. The woman's sister has also bought a lot of tickets. The husband has bought one for her and one for him. The women think the husband has won with his tickets; but, it turns out, the reason he is flush is that he is now financially successful. Actually, one of the women just may actually have the winning ticket!
Jim Brochu is the only actor in America to have won the New York Drama Desk Award, the Washington, DC Helen Hayes Award, the Los Angeles Ovation Award and the South Florida Carbonell Award, all for Best Actor in a Play. He appeared on Broadway as Andrew McLaren in Brigadoon opposite Christine Ebersole and Len Cariou, in Washington, DC as Willy Clark opposite Theodore Bikel's Al Lewis in Neil Simon's The Sunshine Boys and most recently as Sheridan Whiteside in the Off-Broadway revival of The Man Who Came To Dinner. Over the past few years, Mr. Brochu has been leading a double life – both as himself and as the great Zero Mostel in his multi-award winning play, Zero Hour, published by Samuel French. Since its premiere in 2006, Mr. Brochu has been touring the country with the show, garnering both unanimous critical raves and major theatrical honors. Prior to taking on Zero, Mr. Brochuwas in New York City starring in his Off-Broadway hit, The Big Voice: God or Merman? which he also wrote. The New York Times called this show, also published by Samuel French, a "Triumphant and side-splitting – a hilarious and utterly enthralling evening of musical theatre." In 2005, Mr. Brochu was nominated again by the Los Angeles Ovation Awards as Best Actor in a Musical for The Big Voice, an honor he won from both the Palm Springs Desert Star Awards and the Valley Theatre League ADA Awards. The Big Voice was also given the Ovation Award as Best Musical, presented to him and composer-partner, Steve Schalchlin, by the legendary Jerry Herman. Mr. Brochu is an active member of the Dramatists Guild, the Screen Actors Guild, and Actors Equity Association and remains, as The New York Times called him, a true "Man Of The Theatre". His caricature hangs on the wall of the legendary Sardi's Restaurant in New York, a singular tribute to a forty year show business career as an actor and playwright. His other work as a writer and composer includes The Last Session and A Wonderul Worldful of Christmas (both in collaboration with Mr. Schalchlin), Cookin' with Gus, The Lady of the House, Fat Chance, and The Lucky O'Learys.
Latest News

This is the Last weekend.

Read LuRae Stokes' article in the Tyler Morning Telegraph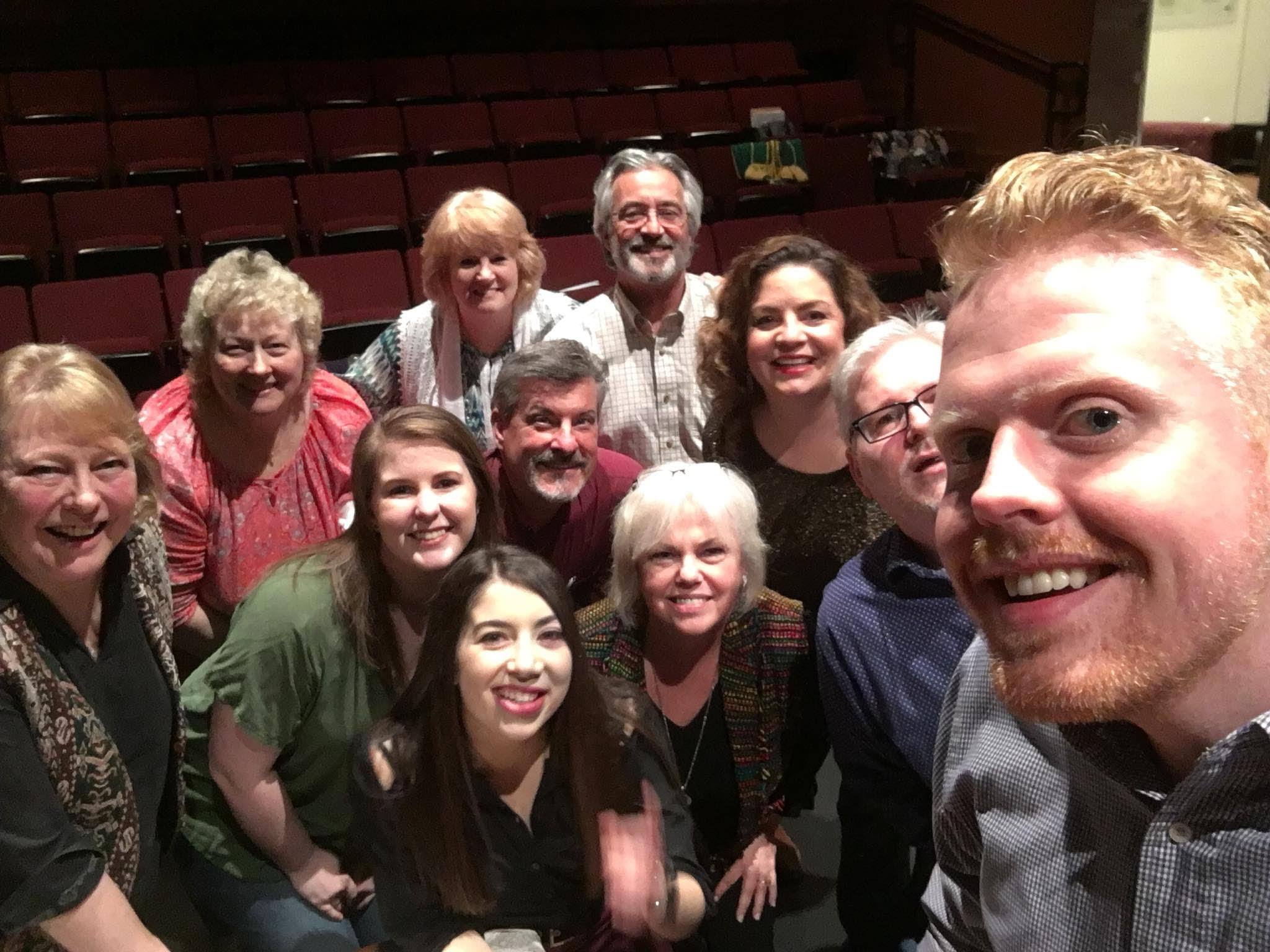 CAST:
Peg O'Learey........................Vickie Tindall
Martin O'Learey....................Brad Echols
Brian O'Learey......................Ryan Ordmandy
Rose Quain Cronin...............Rebecca Hitt
Amy Baviello.........................Kacy Combest
Frank Baviello.......................Stan King
Monsignor William Rafferty...Roger Pharr
PRODUCTION CREW:
Artistic Director (design).......DeAnna Hargrove
Asst. Guest Director.............Sarah Pharr
Co-Producer/Stage Mgr.......Anita Hamilton
Co-Producer/Props..............Daye Collins
Light Design/Engineer..........Dave Dickson
Technician/Operator.............Georgie Dumas
Feb. 2, 2018 - Feb. 11, 2018

The author of A Thousand Clowns brings us another set of the particular creatures that are New Yorkers. I'm Not Rappaport takes place under a bridge in Central Park, where two octogenarians – one white, one black – meet regularly, determined to fight off all attempts to put them out to pasture. Nat is a cantankerous Communist whose daughter is urging him into the old folks' home. Midge, an apartment superintendent spends his days in the park hiding in the past, and hiding from his disgruntled tenants.
"Rambunctiously funny." - New York Post
"A warm and entertaining evening." - WWD
NOTE: The February 10th performance has a dessert option. Buy the web ticket "Dessert - Theatre" or use your FLEX + $10 (call box office)
Latest News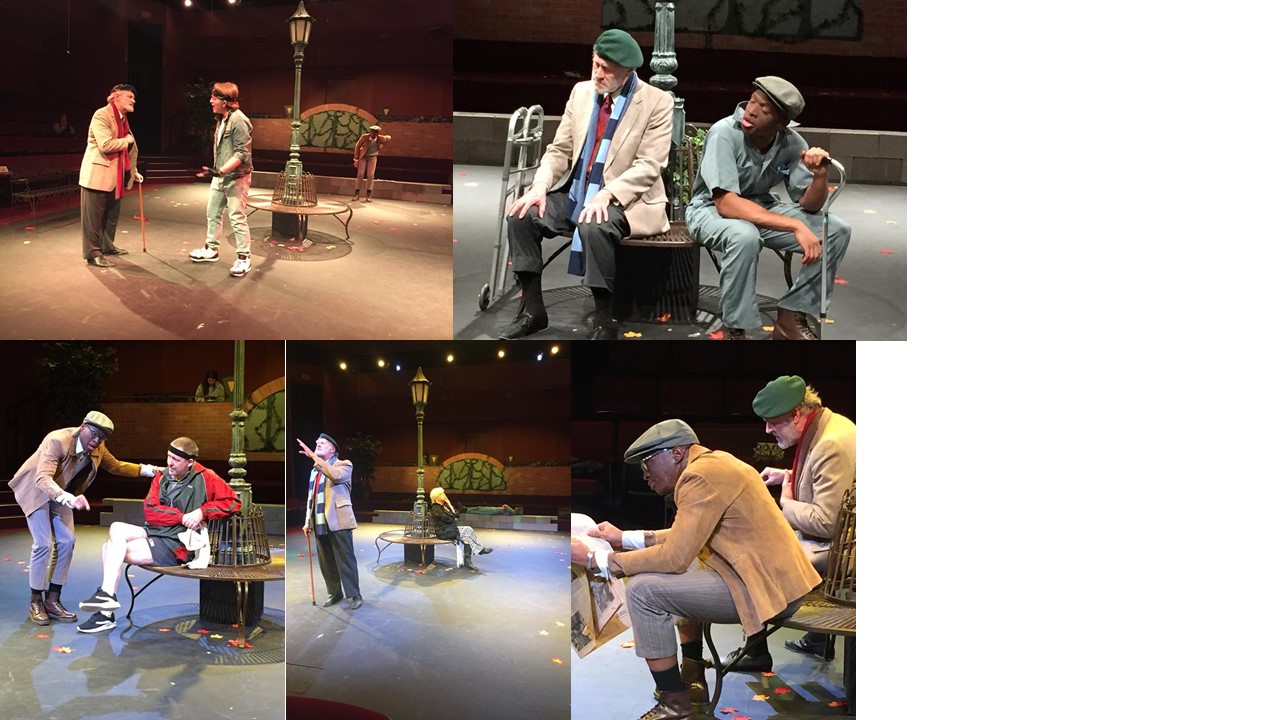 Read John Baggett's review in eGuide Magazine.
"I'm Not Rappaport is a delightful, frequently funny show ... "

Tyler Civic Theatre explores the acceptance of aging with 'I'm Not Rappaport'
Read the story by Danny Mogle in today's Tyler Morning Telegraph

Cast List….
TARA HOOVER (Laurie)
ALLISON CAMBRE (Nat)
ASA JOHNSON (Gilley)
WILLIAM IGBOKWE (Midge)
DEANNA HARGROVE (Clara)
MICHAEL McLEOD (Danforth)
JAKE GILLARD (Cowboy)
TILLY McLEOD (Director)
Roger Pharr (Producer)
Joe Taylor (Producer)
Jan. 11, 2018 - Jan. 14, 2018

Over 15,000 Jewish children passed through Terezin, and only about a hundred were still alive when Terezin was liberated at the end of the war.
One of the survivors, Raja, having lived through it all, teaching the children when there was nothing to teach with, helping to give them hope when there was little enough reason for hope, creating a little world of laughter, of flowers and butterflies behind the barbed wire, tells the true story of the children.
It's her play and it's theirs. There were no butterflies at Terezin, of course, but for the children, butterflies became a symbol of defiance, making it possible for them to live on and play happily while waiting to be transported.
This play is her story.
It is history as much as any play can be history, showing the best and the worst of which the human heart is capable.
ERRATA: The correct show dates for I Never Saw Another Butterfly are January 11-14. Apologies for some incorrect dates on earlier marketing materials.
Latest News

Read the full review by clicking this announcement's title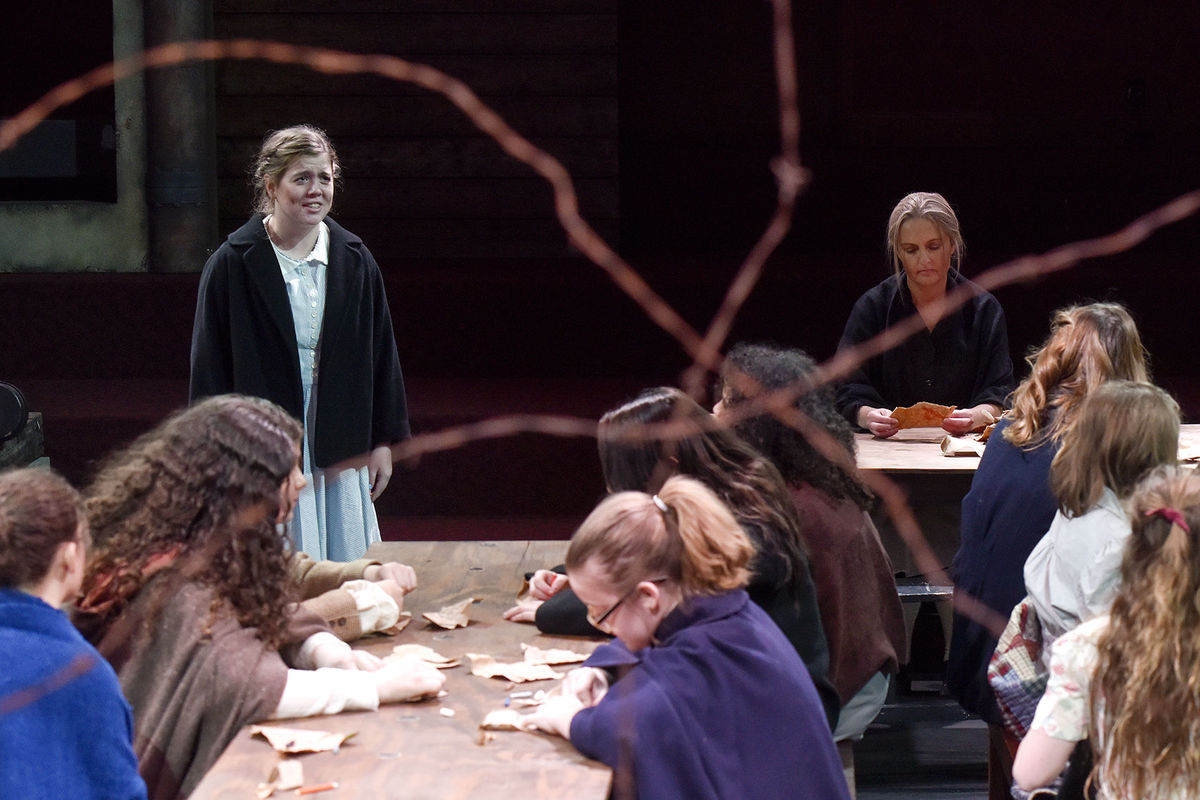 Photo by Chelsea Purgah/TMT Staff

"I can't recommend I Never Saw Another Butterfly enough. It's a truly wonderful and emotional production that takes us back to a time of tragedy and gives us a reminder that even when it doesn't seem like it, we can always hold on to hope." == By John Baggett
Click here to read the review in eGuide Magazine.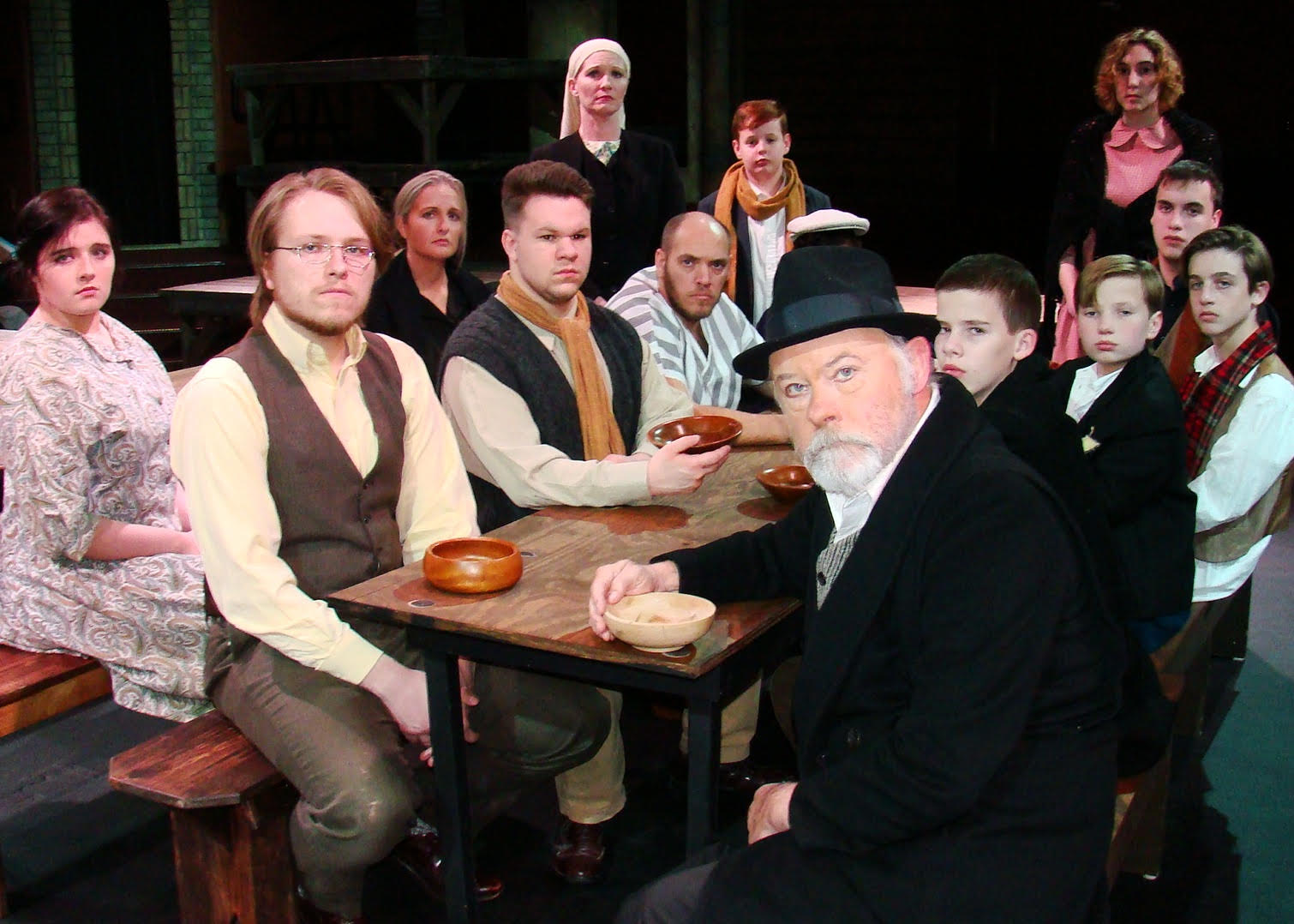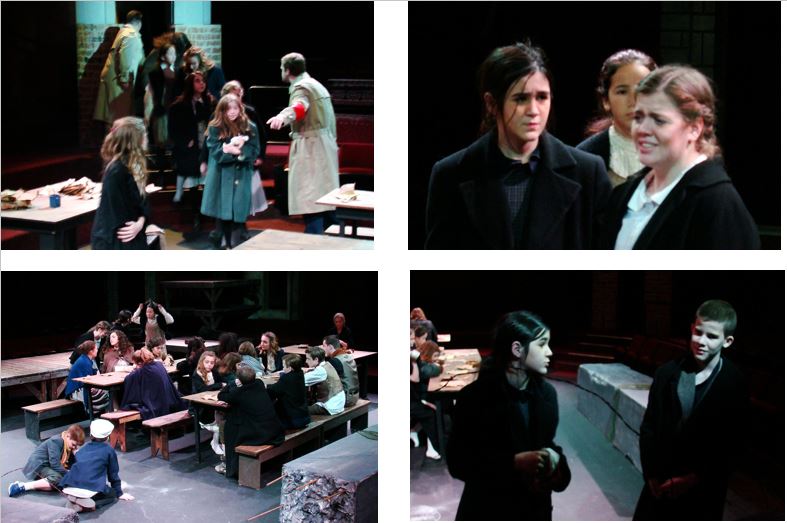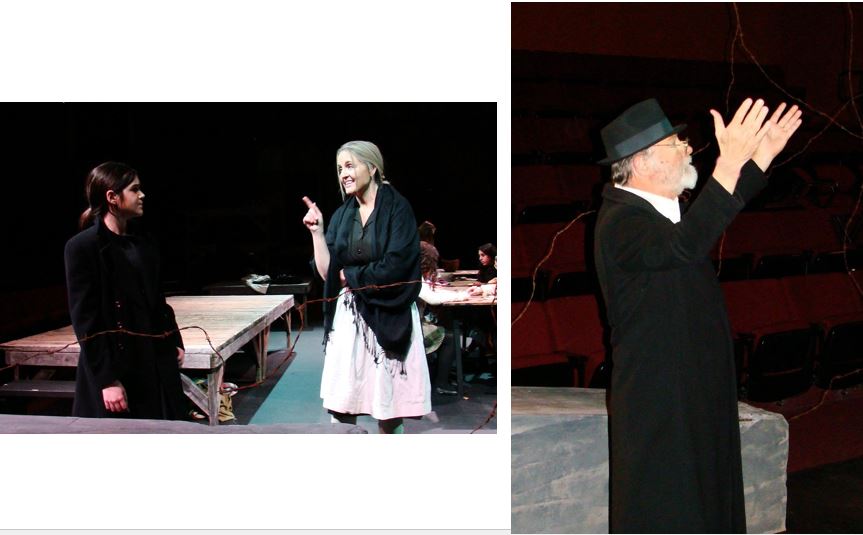 Principle Characters
Maddie Keeling - Raja Englanderova
Caitlin Drennan - Erika
Joseph Brumfield - Honza
Stephanie Water - Mother
Asa Johnson - Pavel
Tana Switsky - Irena Synkova
Brianna Beard - Vera
Richard York - Rabbi
Sidney Smith - Father
Kerbie Langley - Renka
Novalee Welch - Irca
Saskia Lynge - Adult Raja Englanderova

Chldren:
Ava Saxon - Erika's friend / camper
Cameron Ames - Frankisek
Remi Zachry - Suzanna
Blair Gonzales - Linda
Ewan Switsky - Alfred
Jesssica Earls - Eva
Tres Taylor
Zach Combs

Men
Ryan Castner
Dalton Baldauf
Eliot Burk

Women
Hannah Ritchie

Ludvik Opera Scene
Ava Saxon
Josh Alexander
Mary Tijerina
Dalton Baldauf
Tres Taylor
Abigail Ourso
Hannah Ritchie
Zach Combs

Additional Camp Children
Victoria Barrett
Suna Malik
Farrah Ford
Ryelynn Singleton

End Monologues
Kaylin Sewell
Cheyenne McAllister
Delaney Mullee
Xitlaly Morales
Eden Shively
Kirsten Hahn

Officers/Guards/Announcers
Eliot Burk
Nathan Herman
Ryan Castner
Dec. 8, 2017 - Dec. 17, 2017

THE STORY: A church Christmas program spins hilariously out of control in this Southern farce about squabbling sisters, family secrets, a surly Santa, a vengeful sheep and a reluctant Elvis impersonator.

It's Christmas-time in the small town of Fayro, Texas, and the Futrelle Sisters—Frankie, Twink and Honey Raye—are not exactly in a festive mood. A cranky Frankie is weeks overdue with her second set of twins. Twink, recently jilted and bitter about it, is in jail for inadvertently burning down half the town. And hot-flash-suffering Honey Raye is desperately trying to keep the Tabernacle of the Lamb's Christmas Program from spiraling into chaos. But things are not looking too promising: Miss Geneva, the ousted director of the previous twenty-seven productions, is ruthless in her attempts to take over the show. The celebrity guest Santa Claus—played by Frankie's long-suffering husband, Dub—is passing a kidney stone. One of the shepherds refuses to watch over his flock by night without pulling his little red wagon behind him. And the entire cast is dropping like flies due to food poisoning from the Band Boosters' Pancake Supper. And when Frankie lets slip a family secret that has been carefully guarded for decades, all hope for a successful Christmas program seems lost, even with an Elvis impersonator at the manger. But in true Futrelle fashion, the feuding sisters find a way to pull together in order to present a Christmas program the citizens of Fayro will never forget. Their hilarious holiday journey through a misadventure-filled Christmas Eve is guaranteed to bring joy to your world!
Latest News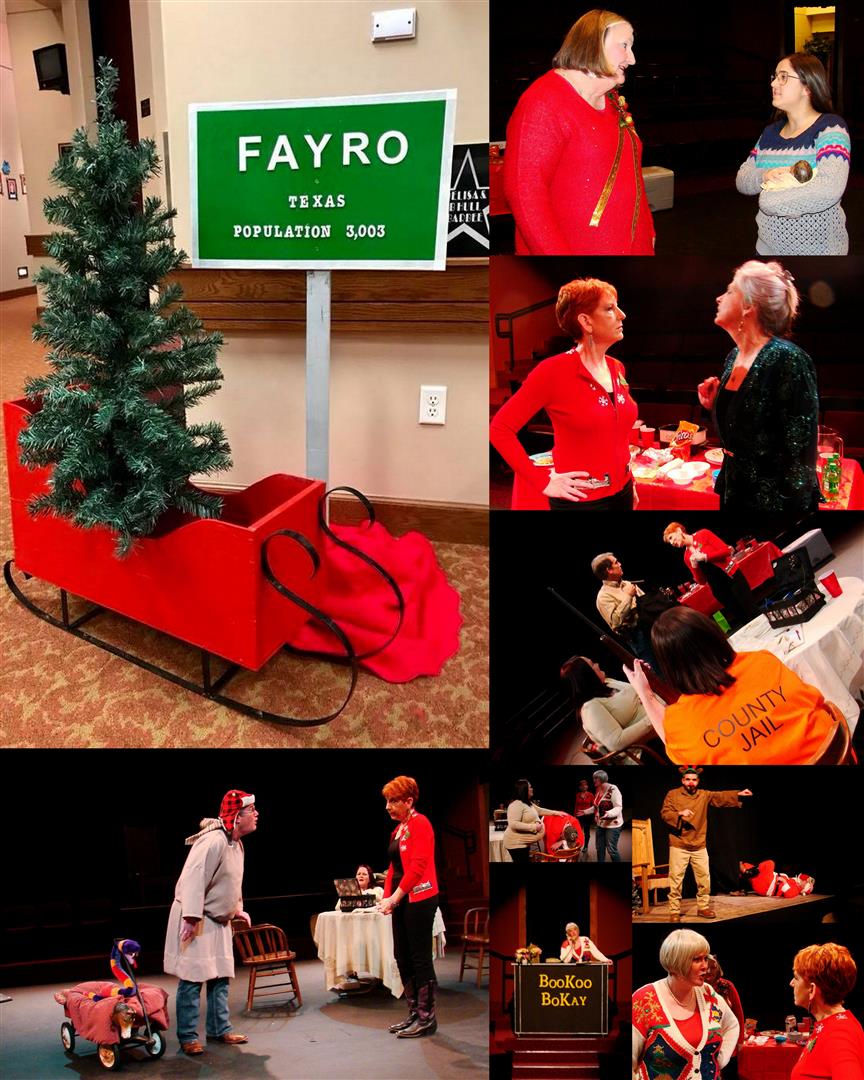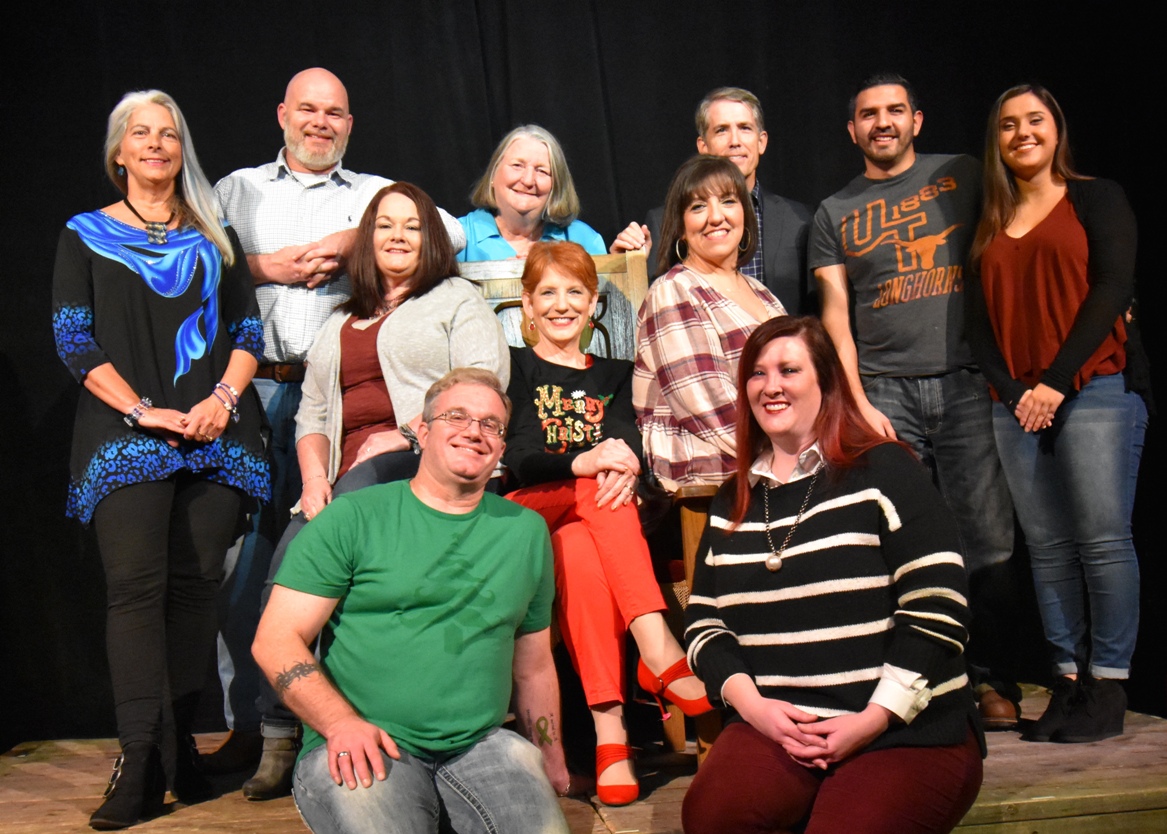 John Curtis Butner - Stewart Fillmore
Raynard Chisum - Heath Huffstetter
Justin Waverly - Servando Macedo
Dub Dubberly - Jeremy Butler
Rhonda Lynn Lampley - Joclyn Ewers
Honey Raye Futrelle - Regina Money
Twink Futrelle - Sandy Junek
Frankie Futrelle Dubberly - Traci Smith
Gina Jo (G.J) Dubberly - Aryn Preddy
Patsy Price - Sherri Priest
Miss Geneva Musgrave - Danielle Rousseau
Director- Danielle Rousseau
Producers - Sherri Priest and Judy Watson
Nov. 16, 2017 - Nov. 19, 2017

Winnie-the-Pooh

Adapted from the novel by A. A Milne
Winnie-the-Pooh is Christopher Robin's fat little "bear of very little brain" who would like to drift peacefully through life, humming tunes and stopping frequently to eat "a little something." However, he finds himself involved in all sorts of frantic adventures, assisted by such friends as the dismal Eeyore, Piglet and Rabbit, with his countless relations. Pooh's intentions are always the best, but his passion for honey and condensed milk keeps getting him into trouble. When friend Piglet gets roped into Kanga's household and Kanga starts bathing him (with soap!) and forcing down spoonfuls of Strengthening Medicine, Pooh wants to fly to the rescue, but he's had so many snacks he gets stuck in the door. A.A. Milne's wit and special understanding of young people make this one of the most successful plays available.
Latest News
Read Lurae Stokes' article in the Tyler Morning Telegraph

"A Family-Fun Classic Production" - Read John Baggett's review in eGuideMagazine


Pooh – Justin Purser
Nanny/Kanga – Georgi Dumas
Rabbit – Carter Oyer
Piglet – Gianna Mahfood
Owl – Eliot Burk
Eeyore – Josh Alexander
Roo – Tres Taylor
Christopher Robin – Karter Simmons
Tigger – Steven Young
Rabbit's Nephews:
#1 – Mike Anderson
#2 – Levi Kriechbaum
#3 – Alec Anderson
Oct. 27, 2017 - Nov. 5, 2017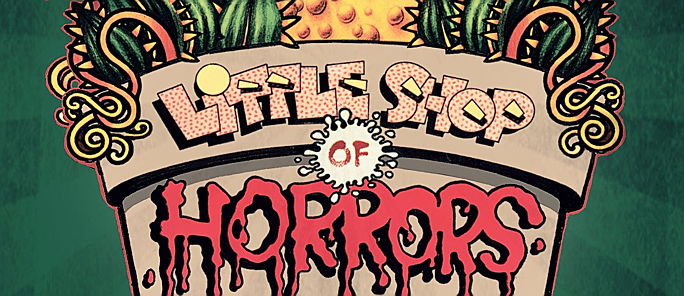 Feed the need for musical hilarity with this delicious sci-fi smash about a man-eating plant.
A deviously delicious Broadway and Hollywood sci-fi smash musical, Little Shop Of Horrors has devoured the hearts of theatre goers for over 30 years. Howard Ashman and Alan Menken (Disney's The Little Mermaid, Beauty And The Beast, and Aladdin) are the creative geniuses behind what has become one of the most popular shows in the world.
The meek floral assistant Seymour Krelborn stumbles across a new breed of plant he names "Audrey II" - after his coworker crush. This foul-mouthed, R&B-singing carnivore promises unending fame and fortune to the down and out Krelborn as long as he keeps feeding it, BLOOD. Over time, though, Seymour discovers Audrey II's out of this world origins and intent towards global domination!
One of the longest-running Off-Broadway shows, Little Shop Of Horrors the charmingly tongue in cheek comedy has been produced worldwide to incredible success ...
Latest News

Read the review by Lurae Stokes in the Tyler Morning Telegraph by clicking the title of this item.

'Little Shop of Horrors' gets musical - TV Interview on East Texas Matters
[Click this item title to see the interview.]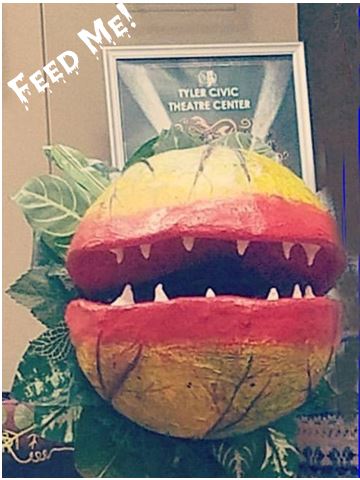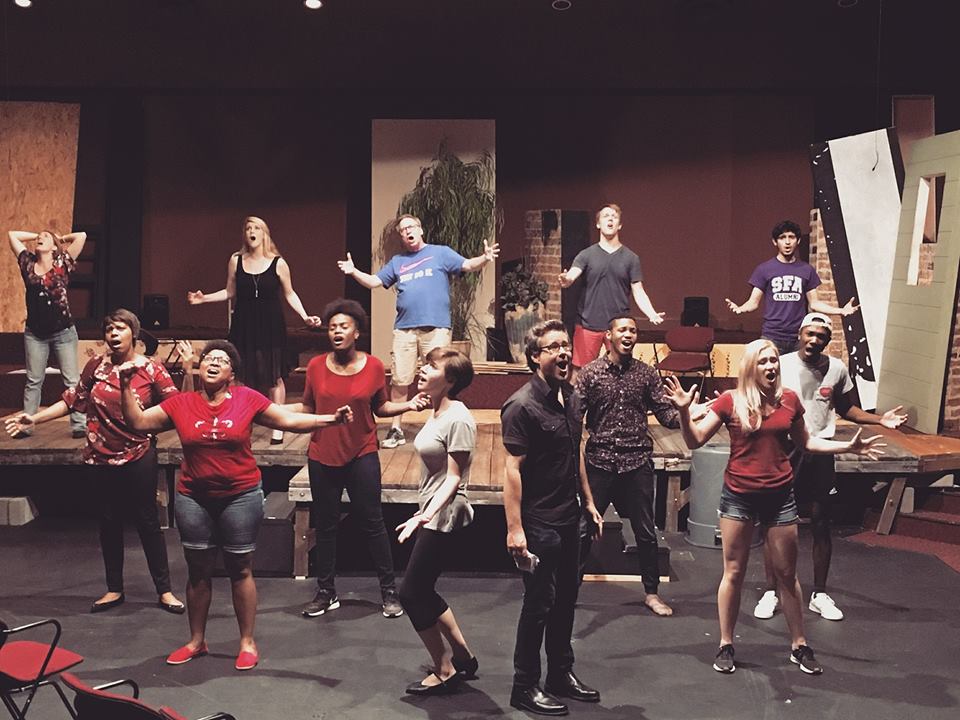 Little Shop of Horrors opens in 26 days!! You cannot miss this one!
Go to www.tylercivictheatre.com now for tickets.

Announcing....the cast and crew of "Little Shop of Horrors"! Show opens Halloween weekend on October 27th. What a mix of new and TCTC veterans! Congrats to all!

Principal Cast:
Seymour: Stephen Rainwater
Audrey: Holly Tarkon
Mushnik: Regi Fowler
Audrey II: Michael Barnhart
Orin (The Dentist): Matthew Magill
Urchin: Sherry Berry
Urchin: Brittany Crowe

Dance Ensemble:
Justin Forward
Sarah Smith
Kendall Phillips

Ensemble:
Cedtrese Williams
Jiffnesia Horn
Helania Wilkerson
Cameron Davis
Trisha Wise
Alexis Leyva
Alan Zamarron

Audrey II Puppeteers:
Billy Williamson
David Berthiaume

Production Team/Crew:
Director: Megan Magill
Producers: Stan King/DeAnna Hargrove
Stage Manager: Grace Ensey
Tech: Jeremy Butler/Kerbie Langley
Sept. 14, 2017 - Sept. 17, 2017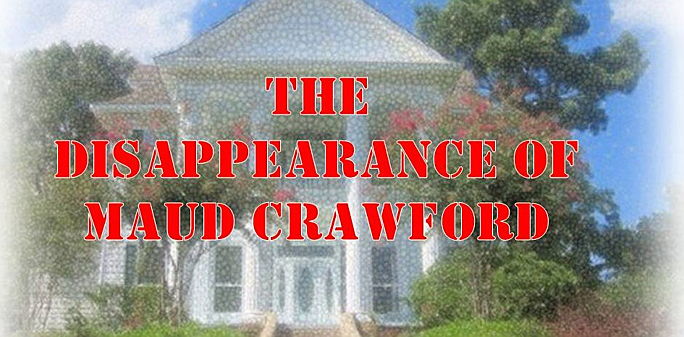 The Disappearance of Maud Crawford: A Story Based on True Events, Gossip, and Hearsay by Jill Bradley was selected as this year's production from the 2017 New Play Festival.
Auditions July 31 & August 1
Synopsis:
The year is 1957 in Camden, Arkansas and Maud Crawford has vanished without a trace. She was a formidable woman, the first female lawyer in Arkansas and no one can figure out what happened to her. A chorus of townspeople speculates on what could have happened. There is no shortage of suspects in the sleepy town, but the mystery remains unsolved. This play is very loosely based on true events and small-town gossip.
The playwright:
Jill Bradley began her theatre career as a high school student in Avinger, TX. She has appeared in over 30 productions. Jill studied theatre at NTCC and ETBU. She will soon begin her fifth year of teaching theatre at the junior high and high school level at Redwater ISD. She holds a Bachelor's degree in Communication Disorders and is currently pursuing her Masters Degree in Theatre from Texas A&M – Commerce.
All tickets $12.50 or you can use your Flex tickets as well.
Latest News

"Based on a true story, Tyler Civic Theatre's world premiere of "The Disappearance of Maud Crawford" is a murder mystery full of conspiracies and fascinating suspects." - Written by LURAE STOKES, Special to the Tyler Paper
Click this title to read the article.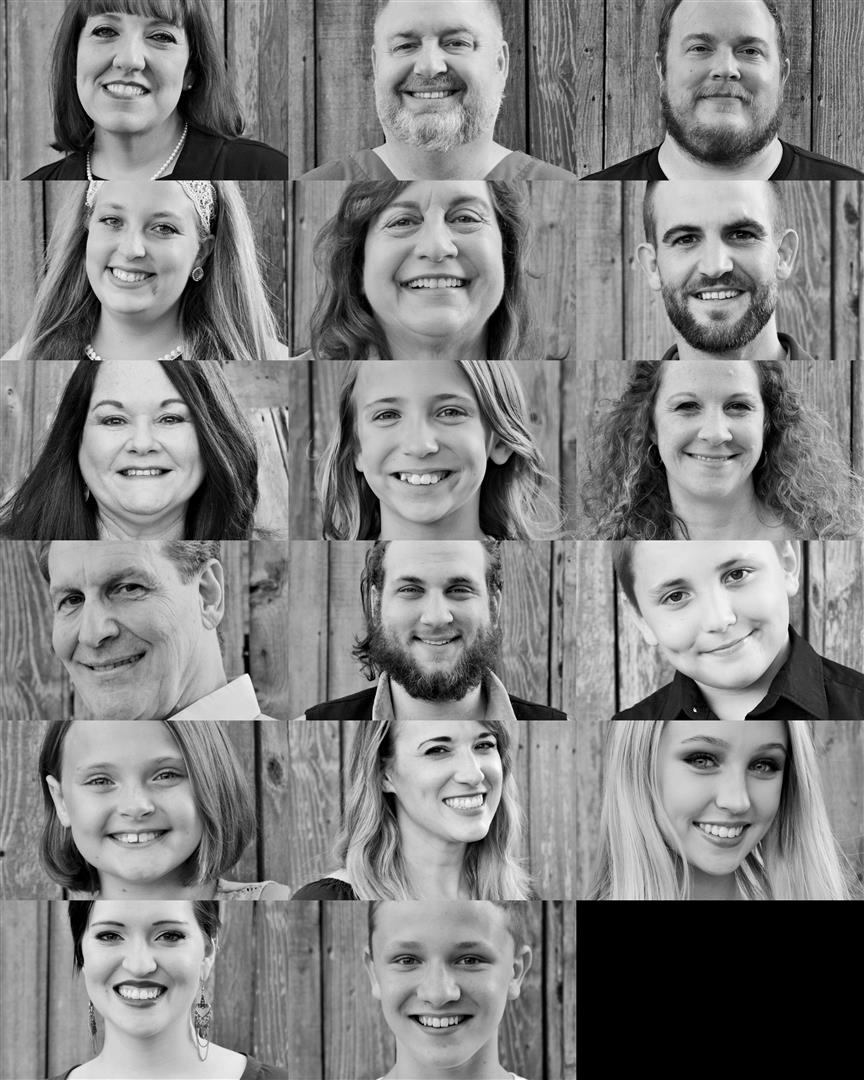 Cast list for "The Disappearance of Maud Crawford" is as follows:
Neighbor 1- Katherine Clark
Neighbor 2 - Marci Acheson
Neighbor 3 - Rob Carter
Neighbor 4 - Morgan Robbins
Children of the Chorus - Kennison Oyer, Collin Oyer, and Delaney Mullee.
Maud Crawford - Traci Smith
Clyde Crawford - Allen Higginbotham
Mike Berg - Justin Purser
Helen Berg, - Erin Oyer
Mafia Man/Police Captain - John Baggett
Insurance Agent/Evelyn Henley - Sandy Junek
Odis A. Henley - Jacob Gillard
Director = Hannah Johnson
Producers = Amanda Spangler and Samantha Greene
Support = Daye Collins
Playwright = Jill Bradley
July 20, 2017 - Aug. 6, 2017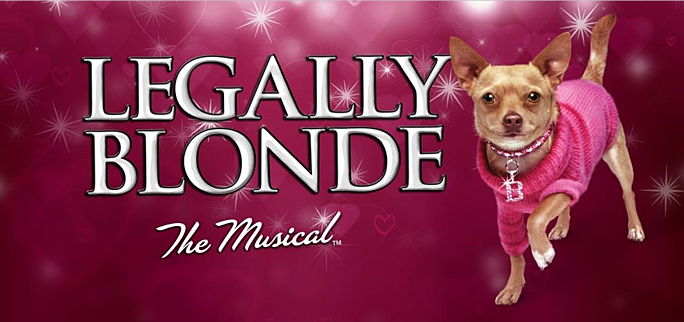 A fabulously fun international award-winning musical based on the adored movie, Legally Blonde The Musical, follows the transformation of Elle Woods as she tackles stereotypes, snobbery and scandal in pursuit of her dreams. This action-packed musical explodes on the stage with memorable songs and dynamic dances. Equal parts hilarious and heart-warming, this musical is so much fun, it should be illegal!
Legally Blonde The Musical will take you from the sorority house to the halls of justice with Broadway's brightest new heroine (and, of course, her chihuahua, Bruiser).
Based on the adored movie, Legally Blonde The Musical stays true to form with a peppy score and playful book. This musical is ridiculously enjoyable, from start to finish.
Elle Woods appears to have it all. Her life is turned upside down, however, when her boyfriend dumps her so he can start getting serious about his life and attend Harvard Law. Determined to get him back, Elle uses her charm to get into Harvard Law. At school, she struggles with peers, professors and Warner Huntington. With the help of Paulette and Emmett, though, Elle quickly realizes her potential and sets out to prove herself to the world.
This musical is relatively new to the theatre world, catering to the present-day's generation and culture. Legally Blonde The Musical is perfect for high school and community theatre, featuring a large ensemble and several big song-and-dance numbers.
| | | |
| --- | --- | --- |
| Tickets | Week | Price |
| | 1 | $20 |
| | 2 | $25 |
| | 3 | $25 |
Latest News

Click HERE for Tyler Morning Telegraph review
Click HERE for eGuide Magazine review.
Elle Woods
Sarah Smith
Warner Huntington III
Bryce Neel
Emmett Forrest
Cameron Davis
Vivienne Kensington
Amanda Spangler
Professor Callahan
Stephen Rainwater
Paulette Bonafonté
Kim Hodges
Brooke Wyndham
Tessa Anderson
Margot
Kelsey McFall
Serena
Kennedy Box
Pilar
Michaela Ellis
Gaelen
Nicole Moore
Leilani
Rachael Cilliers
Kate
Nadine Booth
Aaron Shultz
Walker Delk
Sundeep Agrawal Padamadan
Jack Ragland
Enid Hoopes
Nicki Dempsey
Whitney
Anne Cox
Dewey
Bryce Neel
Chutney Wyndham
Emilie Casper
Kyle
Jack Ragland
Delta Nu Sorority Sisters
Cassandra Smith, Savannah Williams,
Anne Cox, Tessa Anderson
Salesgirl
Nadine Booth
Store Manager
Emilie Casper
Violinist
Ryan Jackson
Restaurant Patrons
Jack Ragland, Cassandra Smith, Amanda Kattengell, Allison Cambre
Elle's Father
Allison Cambre
Elle's Mother
DeAnna Hargrove
Grandmaster Chad
Walker Delk
Frat Guys
Jack Ragland, Christopher Fisher, Cameron Davis, Bryce Neel, Ryan Jackson
Winthrop
Allison Cambre
Lowell
TBD
Pforzheimer
Jack Ragland
Jet Blue Pilot
Ryan Jackson
Law Student at Party
Walker Delk
Callahan's Students
Jack Ragland, Nadine Booth, Cassandra Smith, Tessa Anderson
Workout Person - Dana
Emilie Casper
Workout People
Savannah Williams, Ryan Jackson, Christopher Fisher
Inmates
Nicole Moore, Savannah Williams Emilie Casper, Michaela Ellis,
Kennedy Box, Rachael Cilliers
Prison Guard
Allison Cambre
H&H Perfume Girl
Amanda Kattengell
Second Perfume Girl
Anne Cox
Salespeople
Christopher Fisher, Walker Delk
Bookish Hair Client
Amanda Kattengell
Hair Cashier
Savannah Williams
June 30, 2017 - July 2, 2017

STAR Camp student production -- Braithwaite Stage
Based on the Disney film and J.M. Barrie's enchanting play, Disney's Peter Pan JR. is a modern version of the timeless tale about a boy who wouldn't grow up... with no flying required! The score includes new arrangements of classic Disney songs and a story featuring one rousing adventure after another.
Wendy Darling loves to tell stories to her brothers, Michael and John. But when her father announces she must move out of the nursery, Peter Pan comes to visit the children and whisks them away to Neverland. Their journey introduces them to the Lost Boys, Mermaids, Indians and even the infamous pirate, Captain Hook! It's Peter to the rescue when Wendy is taken captive by the dreaded captain, who has his own sinister plans in mind for our hero.
Disney's Peter Pan JR. is a magical story with countless opportunities for clever staging and design, and large ensemble numbers featuring cliques of classic characters.
Latest News

The Standby List is also closed.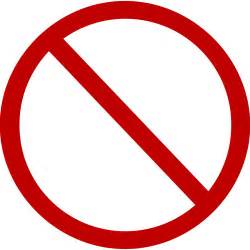 We are proud to announce the cast of Peter Pan Jr.
Peter Pan . . . Ava-Claire Castleman
Wendy . . . Hannah Parrott
John . . . Colin Jackson
Michael . . .Tres Taylor
Mr. Darling/Noodler . . . Cameron Ames
Mrs Darling/Slightly . . . Bailey Bower
Nana/Pirate . . . Sydney Williamson
Liza/Brave Girl . . . Addison Dixson
Twin 1 . . .Delaney Mullee
Twin 2 . . .Abigail Ourso
Nibs . . . Jenna Ogletree
Curly . . . Elise Grant
Tootles . . . Kaela Young
Tiger Lilly . . .Sophia Cyr
Brave Girl 1 . . .Mikaila Linch
Brave Girl 2 . . .Avery Adams
Brave Girl 3 . . .Laney Cannefax
Brave Girl 4 . . . Ava Saxon
Small Brave Girl . . . Sharla Bowen
Hook . . .Madelynn Crow
Smee . . . Zachary Combs
Jukes . . . Caden Starkey
Starky . . .Olivia Ann Martin
Cecco . . . Joseph Brumfield
This is our STAR Camp student production and it will be performed on the Braithwaite Stage this year!!!
Director : Samantha McDanel
Vocals : Tara Hoover
Choreography : Shelby Moy
Showtimes are :
Fri, Jun 30 at 7:30 PM
Sat, Jul 1 at 7:30 PM
Sun, Jul 2 at 2:30 PM
Tickets can be purchased at :
https://buy.ticketstothecity.com/purchase.php?event_id=5227
June 30, 2017 - July 2, 2017
June 22, 2017 - June 25, 2017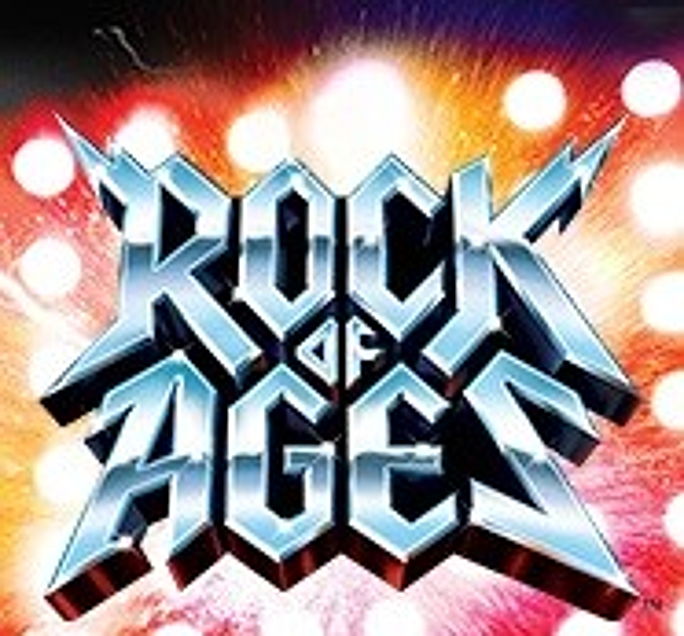 Rock of Ages takes you back to the times of big bands with big egos playing big guitar solos and sporting even bigger hair! This Tony Award -nominated Broadway musical features the hits of bands including Night Ranger, REO Speedwagon, Pat Benatar, Twisted Sister, and others.
Artistic & Musical Director: Charles Praytor
Producers: Ravi Hazari/Stephen Rainwater
This show will be performed at Tyler's Liberty Hall, downtown off the square.
NOTE: Evening performances start at 8:00 pm
Latest News


We are pleased to announce the Cast of "Rock of Ages"!! Show opens June 22nd for one weekend at Liberty Hall! Who's ready to rock?!?
Sherrie: JJ VanDeventer
Drew: Jordan Boyd
Lonny: Kendall Phillips
Dennis Dupree: Mikey Wiseman
Regina: Allison Pharr
Hertz: Brad Echols
Franz: Justin Forward
Justice Charlier: Donna Schorr
Stacee Jaxx: Matthew Nichols
Mayor/Ja'Kieth: Mishobi Johnson
Contance/Ensemble: Alyssa Duke
Waitress #1/Ensemble: Aryn Preddy
Ensemble: Hannah Pascual
Joey Primo/Ensemble: TBD
Director: Charles Praytor
Choreographer: Hannah Pascual
Stage Manager: Sarah Pharr