We are very pleased and excited to announce the cast of Disney's "Newsies The Musical". Over 100 auditioners strong came to audition and a cast of 47 was selected.
Newsies takes the Braithwaite stage July 25th and will run for 3 weekends!
For tickets, go to tylercivictheatre.com. The time to seize the day is now!
The cast of "Newsies The Musical"-
| | | |
| --- | --- | --- |
| | | |
| Principals: | The Newsies!!! | |
| Jack Kelly: Collin Skelton | Race: Bryan Knous | |
| Katherine Plumber: Lizzy Tucker | Romeo: Aidan Wilt | |
| Davey: Fritz Hager III | Henry: Jaylon Crump | |
| Pulitzer: Jack Ragland | Specs: Isaiah Pearson | |
| Crutchie: Robbie Wilt | Albert: Nathan Benson | |
| Les: Chylar Whorton | Finch: Colton Turner | |
| Medda Larkin: Sherry Hawkins | Elmer: Nicholas Sheffield | |
| Spot Conlon: Ashten Lane | Mush: Jackson Holmes | |
| | Buttons: Zachary Combs | |
| Pulitzer's Group, Villains, and other Adults | JoJo: Brandon Collins | |
| Wiesel: Michael Barnhart | Tommy Boy: Pack Williams | |
| Oscar Delancy: Bryce Neel | Mike: Johnathan Hodges | |
| Morris Delancy: Gordon Holmes | Ike: Ethan Gonzalez | |
| Seitz: Austin Clowers | Splasher: Jalen Tinsley | |
| Bunsen: Cameron Davis | Darcy/Scab: Chris Fisher | |
| Hannah: Olivia Santone | Bill/Scab: Joseph Brumfield | |
| Nunzio: Nyc Moy | Scab: Alec Anderson | |
| Snyder: Allison Cambre | | |
| Mayor: Ryan Anderson | The Brooklyn Gang!!!! | |
| Roosevelt: Jay Olsen | Kelsey McFall | |
| Mr. Jacobi: David Stein | Bliss Joseph | |
| | Michaela Ellis | |
| The Bowery Beauties: | Tiffany Williams | |
| Kelsey McFall | Rickea Strogen | |
| Allie Lake | Allie Lake | |
| Emily Livesay | Bailey Crawford | |
| Haylee Munn | Brooke Henry | |
| Michaela Ellis | Emily Livesay | |
| | Haylee Munn | |
| Nuns: | Finley Hagen | |
| Finley Hagen | Kaleigh Hodges | |
| Tiffany Williams | | |
| Bliss Joseph | | |
| Brooke Henry | | |
| Bailey Crawford | | |
Director: Stephen Rainwater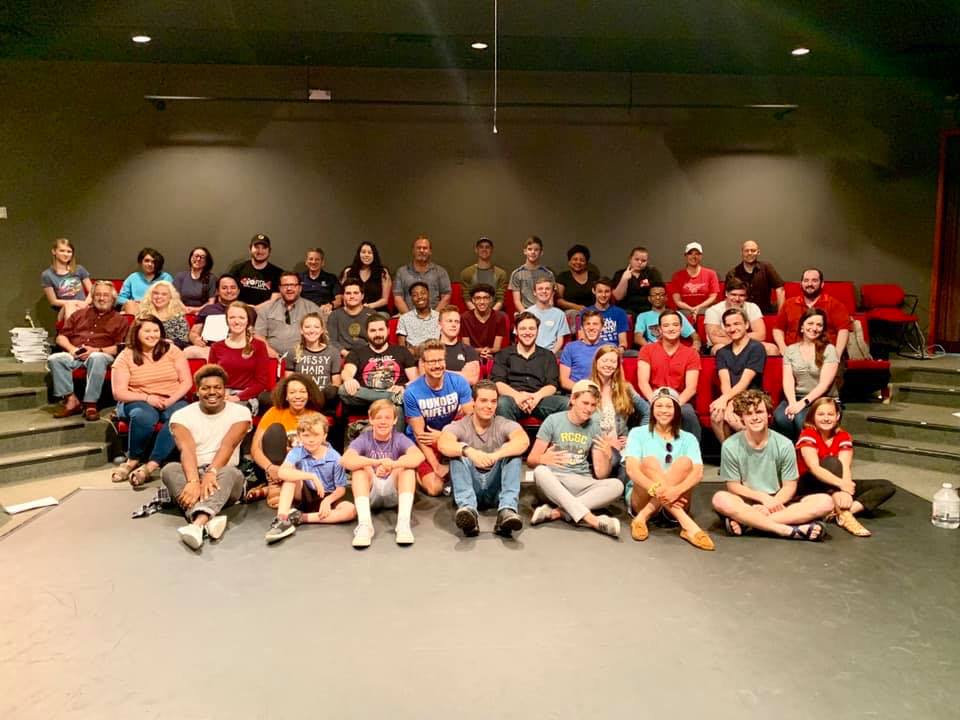 Music Director: John & Kim Hodges
Choreographer: Shelby Moy
Assistant Director: Sara England
Stage Manager: Nadine Booth
Producers: Roger Pharr/Jan Barton